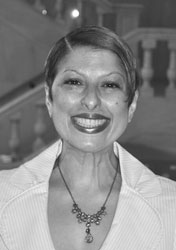 Solimar Otero
Associate Professor - English
Education
Bachelor's Degree(s):
1994, B.A., Anthropology, University of California, Berkeley.
Master's Degree:
1997, M.A., Folklore and Folklife, University of Pennsylvania.
PhD:
2002, Ph.D., Folklore and Folklife, University of Pennsylvania.
Area of Interest
Afrolantino and Caribbean folklore; religion; and literature
Recent Courses Taught
Introduction of Folklore
Folklore Field Methods
Latino Caribbean Literature in the U.S.
Awards & Honors
2009-2010, Research Associate and Visiting Faculty, Women' Studies in Religion Program, Harvard Divinity School.
2009 – 2010, Co-Pi / Grant Writer, Regent's Research Grant, Association of Caribbean Women Writers and Scholars bi-annual meeting, LSU hosting.
2008, Manship Summer Research Grant for research in Cuba, Louisiana State University.
2007, Louisiana Endowment for the Humanities Outreach Grant.
2006-2007, Louisiana State University Faculty Research Grants, Atlantic Studies Interdisciplinary Research Group.
2006, Council on Research Faculty Grant, Louisiana State University.
2000 – 2001, Fulbright IIE Grant for Research in Nigeria
Notable Activities
Vice-President, Louisiana Folklore Society
Converner, Latino Section, American Folklore Society
Selected Publications
Books
Afro-Cuban Diasporas in the Atlantic World. Series: Rochester Studies in African History and the Diaspora, Rochester, NY: University of Rochester Press, 2010.
Chapters in Books
"Elegua at the Trans-Atlantic Crossroads: Finding la Frontera / the Borderlands in the African Diaspora," 2010. Esu: Shifting Dynamics of Tricksterhood and the Crossroads in Africa and the African Diaspora, eds. Toyin Falola and Niyi Afolabi, (in press, Indiana University)
"Getting There and Back: The Ontological Journey in Nuyorican Memoir and Fiction." Writing Of(f) the Hyphen: Critical Perspectives on the Literature of the Puerto Rican Diaspora, eds. Jose L. Torres-Padilla and Carmen H. Rivera. Seattle: University of Washington Press, 2008, pp. 274 -292.
Essays in Journals
"Santeria Health Systems: Looking at 'La Limpieza' An Ethnographic Study of Yoruba-Cuban Folk Medicine," Louisiana Folklore Miscellany XVIII (2008): 4 – 21.
Special Guest Editor, Western Folklore, Topic: Afro-Caribbean Religion, Winter & Spring 2007, Volume 66 (1/2).
"Introduction: Investigating Possession Pasts: Memory and Afro-Caribbean Religion and Folklore," Western Folklore, Winter & Spring 2007, Volume 66 (1/2): 7 – 14.
"Spirit Possession, Havana, and the Night: Listening and Ritual in Cuban Fiction," Western Folklore, Winter & Spring 2007, Volume 66 (1/2): 45 – 74.
"Barrio, Bodega, and Botanica Aesthetics: The Layered Traditions of the Latino Imaginary." Atlantic Studies, October 2007, 4(2):173 – 194.
"El sistema de la salud y el bienestar en la religión de la santería cubana," Revista de Investigaciones Folclóricas, December 2006, 21: 144 -158.
"Dreaming the Barrio: Afrolatinos and the Shaping of Public Space in Africa." Phoebe: Gender and Cultural Critiques Fall 2006, 18(2):31-52.
"A Tale of Two Cities": "Ethnic" Yoruba in 19th Century Havana." Wadabagei: A Journal of the Caribbean and its Diaspora Summer/Autumn 2003, 6 (2): 79 - 124.
"Afrolatino Diasporas and Inventing Home in the Americas and Africa," Black Scholar Autumn/Winter 2000, 30(3-4): 54-56.
"Iku and Cuban Nationhood: Yoruba Mythology in the Film Guantanamera." Africa Today, Spring 1999, 46:116 - 130.
"Fearing Our Mothers: An Overview of the Psychoanalytic Theories Concerning the Vagina Dentata Motif, F547.1.1." The American Journal of Psychoanalysis, September 1996, 56(3): 269 -288.
Works in Progress
Coming Home: Nation, Gender, and Diaspora in Afro-Cuban Religion. (Interest expressed by Craig Hill of the University of Mississippi Press.)
YẸMỌNJA: Water Goddess, Fluidity and Tradition, co-edited with Toyin Falola. (To be submitted to University of Indiana Press African Expressive Cultures Series.)