LSU Scholarship for Service Program
Overview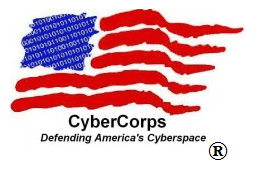 LSU has funding from the National Science Foundation to support the Scholarship for Service (SFS) program, which helps grow the nation's pool of qualified cybersecurity workers. Full scholarships (including tuition, fees, and a monthly stipend) are available for a select group of students who are deeply interested in cybersecurity and pursuing a degree in computer science, computer engineering, or information and decision sciences. In exchange, scholarship recipients work in a federal job after graduation for a period equivalent to the length of their scholarship. Undergraduate students in their last two years of study, M.S. students, and Ph.D. students may apply. For most applicants, a maximum of two years of funding is available.
Scholarship recipients can work at a variety of federal agencies, in positions addressing malware analysis, cyber defense, penetration testing, forensics, public policy, research, and more. Applicants must be deeply committed to the federal service aspect of the SFS program, as the success of LSU's SFS program and the SFS program as a whole is dependent on successful completion of this service. Some examples of federal agencies where recipients might work include the National Security Agency, the Department of Energy, the Central Intelligence Agency, Oak Ridge National Laboratory, Sandia National Laboratory, and many other eligible employers. An annual job fair assists recipients in finding the right match for federal employment.
Benefits
Scholarship recipients receive a number of benefits. These include:
A maximum of 3 years of support for undergraduate and graduate (M.S. or Ph.D.) education.
Academic-year stipends of $25,000 per year for undergraduate students and $34,000 per year for graduate students.
Tuition and education-related fees (does not include items such as meal plans, housing, or parking--these must be paid from the stipend).
Professional allowance of $6,000 for SFS Job Fair and other travel, professional certification, etc.
Participation in virtual and in-person job fairs in Washington, D.C.
Scholarship Eligibility Requirements
Applicants must be U.S. citizens, since most federal cybersecurity jobs will require a security clearance.
An applicant must be currently enrolled full-time at LSU and be a rising junior or senior undergraduate or a graduate student.
An overall GPA of at least 3.25 and exemplary performance in cybersecurity courses is required for all students.
Applicants must express a strong interest in cybersecurity and be able to articulate this interest in detail in an essay submitted in the application process and in a subsequent screening interview.
For undergraduate students, applicants must commit to a concentration in cybersecurity and the associated required courses.
For B.S. students, commitment to participation in an undergraduate research project, supervised by a computer science, computer engineering, or information systems faculty member, is required.
For M.S. students, a thesis or project targeting a research area in cybersecurity is required for participation in the program.
For Ph.D. students, the student's research and dissertation topic must target an important area in cybersecurity.
Applicants must choose at least one cybersecurity-related certification, such as GIAC GCFA, CEH, Security+, etc., and commit to preparation to pass the test for the certification. Students can work with a faculty mentor to choose a certification and for guidance on how to prepare. All associated costs will be paid using grant funds.
Students must participate in at least one summer internship program at a federal agency. There are numerous options available--a few are listed in the next section.
Applicants must commit to participation in the LSU Security Society.
Most importantly, a student must commit to all goals and requirements of the SFS program, including the requirement to accept federal employment in exchange for participation in the program and to complete the required program of study while maintaining acceptable academic standing. This commitment also includes voluntarily making lifestyle choices that do not undermine the candidate's ability to obtain security clearances, which may be required for federal employment.
Internships
One exciting aspect of the SFS program is participating in a summer internship program at a federal agency or research lab. There are many opportunities available, but a few representative ones are listed below:
Advanced Course in Cybersecurity Bootcamp (ACE) [Air Force]
Cybersecurity Internship Program [Department of Homeland Security]
Cryptanalysis and Signals Analysis Summer Program (CASASP) [NSA]
CAE-CO Cyber Operations Summer Intern Program [NSA]
The Cyber Summer Program (CSP) [NSA]
The Director's Summer Program (DSP) [NSA]
Undergraduate Internship/Co-Op Program - Cybersecurity Ocer [CIA]
NIST Internship program (replaces Student Career Experience Program) [NIST]
Summary of Obligations to the Federal Government
Successful and timely completion of the degree program.
Successful completion of a summer internship with a participating government agency.
Employment with a federal agency for a period equivalent to the length of the scholarship received, upon graduation from LSU.
More Information
LSU SFS program contacts:
The main SFS site at the Office of Personnel Management (OPM) contains a wealth of information on the program. Potential applicants are strongly encouraged to digest the information there before applying, particularly the FAQ section.
Applying for an SFS Scholarship
If you meet the requirements and are interested in applying, the application is available online here: https://form.jotform.com/210185074488156.